Successful Licensing

Successful licensing of an idea occurs when the idea demonstrates a substantial market opportunity and a potentially strong patent.

A great idea becomes a great product only if people can be convinced to buy it! Overestimating an idea's worth is a sure way to needlessly waste time, effort and money.

Before spending money on patent applications and prototypes of your invention/idea, determine if the idea has sufficient commercial potential to be successfully licensed; is there a market; is this attractive for licensing?

Successfully licensing an idea starts with a process:

Step 1. Market/Product Evaluation–Is there a market?

Is there a market for this idea? How big is it? Is it sufficiently large enough to attract a company to license the idea (assuming a patent is issued)? Will people buy it? Who is the intended user (buyer)? Can it be priced to make a profit? Is this a revolutionary product? Or is this an improvement to an existing product? Is there a similar product already in the market? If so, what makes this better? If this is an improvement to an existing product does it have demonstrable features and benefits to the user? Is the improvement obvious or unique? These are just some of the questions that need positive answers before spending substantial money on a patent application and prototype.

MOI has the expertise to help you determine if your product invention idea is suitable for licensing. Providing information through a questionnaire that asks for information about your idea/invention helps us assess the commercial potential of your idea. This information is provided under a confidentiality agreement. Using both proprietary databases as well as our own network of people that include current executives and former executives of many well know public and private companies, we can assess the commercial viability of your idea/invention.

If results of the market and product idea evaluation are favorable, MOI will recommend that you proceed to filing a patent application and developing a prototype if this has not already been done. MOI will also offer to work on your behalf to license your idea. MOI works on a contingency basis – we are paid only if we successfully license your idea/invention. Under such an agreement MOI is responsible for the costs of patent and prototype expenses. In all instances MOI will bear the costs associated with its direct effort to license your idea/invention.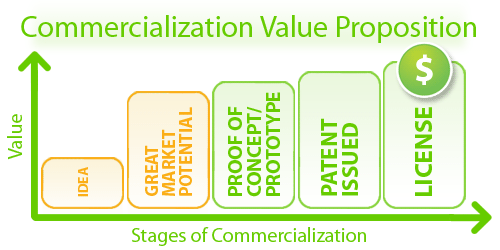 Step 2. Patent Search/Patentability Opinion/Patent Application–Can strong patent protection be obtained?

The next step, if not already started, is to file a patent application. Part of that process is doing an initial patent search. The reason for this is simple: you want to have the strongest patent that you can obtain.

Part of the process of drafting and filing a patent application is to bring to the attention of the Patent Office all prior art. Prior art is any body of knowledge that relates to your invention. Prior art would include previous patents, trade journal articles, publications (including data books and catalogs), public discussions, trade shows, or public use or sales anywhere in the world.

Prior art is important. Insist that your patent attorney complete a patent search prior to drafting your patent application. It helps in two important ways; first it allows you to differentiate your invention from all other prior art, and second; any potential licensee will do a patent search to insure that your patent application has described all the relevant prior art.

If you do not complete a comprehensive patent search, you can be sure that any potential licensee will. They want to be sure that your patent is valid, and remains valid. You need to ensure the patent application is well written, your invention is described in detail, and you claim completely all of the possible iterations of your invention. And needless to say, the patent needs to be drafted by a competent patent attorney.

Note: When you license or sell a new invention, it is the intellectual property, the patent, which is most important to the potential licensee. This patent (or application) is your most important asset. You can be sure that the potential licensee company will do a patent search as part of their due diligence to determine the strength and validity of your patent.

Step 3. Begin Licensing Process

Once a patent application is filed in the US Patent Office, MOI can begin a licensing effort. We have many contacts with numerous companies, both domestic and foreign, public and private. We do not send unsolicited information about your invention and patent application to anyone. We manage the licensing process through direct contacts or referrals through a mutual third-party. MOI will also be responsible for producing promotional materials.

During this process, if not yet available, a prototype will need to be developed assuming that there is interest in your invention. However, it does not have to be a presentation-ready prototype. The prototype can be a breadboard prototype that sufficiently demonstrates the invention. There are many design and engineering companies that specialize in providing low-cost initial prototypes. MOI assists you in the process, while in some instances, it may assume at its discretion a portion of, or all of the expenses related to development of a protoype. This is a true collaborative effort between the inventor and MOI.

Remember: the prototype does not have to be market ready when the purpose is to demonstrate the product/idea for licensing. Companies typically have design engineering and manufacturing expertise, either in-house or through outside firms, that have the responsibility for final design and manufacturing. It is not necessary to develop a presentation or pre-production prototype. Nor is it necessary to develop packaging. Avoid unnecessary expenses.